Americans Don't Want "Health Police"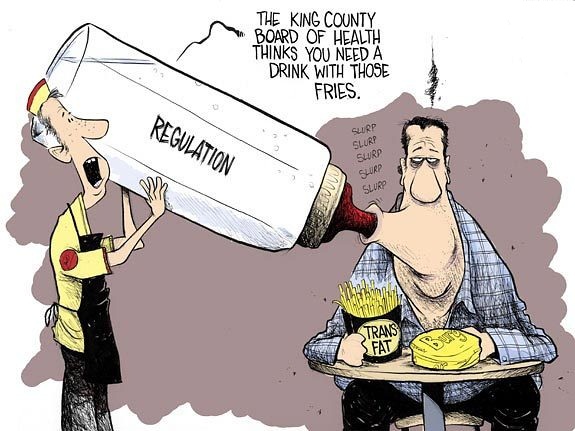 Even though obesity is a crisis in America today, a third of the Americans can't do without their dose of junk food, according to a public poll. A third of Americans who participated in the poll conducted by "The Association Press-NORC Center for Public Affairs Research", admitted that they did not want the government to play a role in finding solutions to America's inreasing obesity levels. 
The overall consensus is that the public doesn't want the government to force them to eat healthier despite the fact that obesity has already been confirmed as a national health crisis.
However, the poll participants did support physical activity in schools as well as provision of nutritional guidelines to help them handle obesity on their own. Almost 70% of Americans also want restaurants to post calorie counts on their menus, with one such participant saying, "The fat content should be put up there in red letters, not just put up there".
Additionally, taxes targeting unhealthy foods like fast food, extra large servings of soda beverages, etc, are not acceptable to 6 out of 10 people who were consulted for the poll. That being said, as far as outlawing sugary drinks is concerned, the public says, "No way!" Instead, people should give up unhealthy food on their own instead of someone else telling them what to do and what they can or can
So what makes people look away from healthy food options? Individuals say unavailability of healthy food options as well as high cost are major reasons for shifting to cheap and readily available fast food options.
Other Articles You May Like To Read:
1. Pepsi, Coke Take Bloomberg's NYC Soda Ban To Court
2. Soda Coalition Rising Against Bloomberg Ban
3. New York Pvt. Hospitals Say Goodbye To Junk Food
Image Courtesy: dallasnews, fusednews