Stranger Eats Ham Off Padma Lakshmi's Body For Charity!
$1,000 for a piece of ham? At first you might be shocked! Doesn't that seem a bit much for some deli meat? Well, apparently not if you're eating it off of sexy Padma Lakshni's body. The glamorous culinary expert allowed a stranger to nibble a piece of Ibérico ham straight off her collarbone on October 8. The incident was a part of an event hosted by "The Capital Food Fight". The $1,000 went to DC Central Kitchen as charity.
Apart from making salacious comments, chefs José Andrés, Andrew Zimmern and Anthony Bourdain raked in 1% of the total moolah required for DC Central Kitchen. They managed to feed the gullible public with iguana meat for a price of course!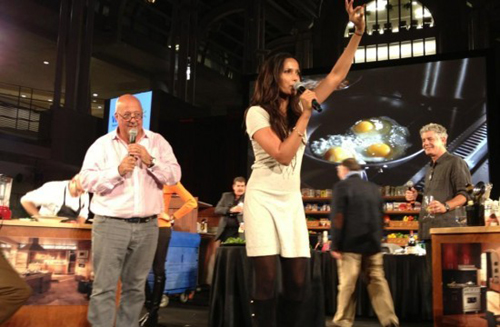 All you fans of Padma Lakshmi might be disappointed though. We doubt if she will be holding more of such events any time in the near future.
But perhaps charitable causes might just prompt her to do something more scandalous!
Other Articles You May Like To Read
German Liquor Bottled After It Is Poured Over Models
Padma Lakshmi, the Sexiest Chef on "What's Sexy" List
Image Credits- tomcorsonknowles ; Jessica Sidman