Una Healy Keeps It Healthy
Una Healy is a well known Irish singer-songwriter but what many people may not know is that she sticks to a very healthy diet. This strict eating regiment helps the beautiful musician stick to a slim size eight figure despite having given birth to a baby girl earlier this year! What exactly does she do to maintain this figure? Well, her mornings usually consist of a glass of orange juice when she wakes up at 6:30am, followed by a cup of tea with soy milk, granola in soy yogurt, and throughout the day when Una gets hungry, she tends to snack on healthy options like nuts, fruits, and vegetables. 
For lunch, Una usually enjoys some chicken noodle soup or something cold, like ham salad. Here is a little secret that the vivacious singer shares with her fans, it is her husband, Ben, an English Rugby player, who plays a main role in cooking at home and he makes sure that Una gets her dose of healthy protein, like grilled salmon, and greens, in the form of broccoli, for dinner.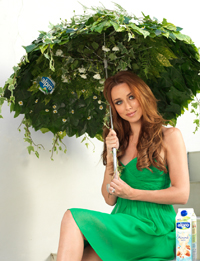 Image Courtesy: munchforhealth, talkingretail