Javier Bardem And Penelope Cruz Take Little Leo Out For A Spaghetti Lunch!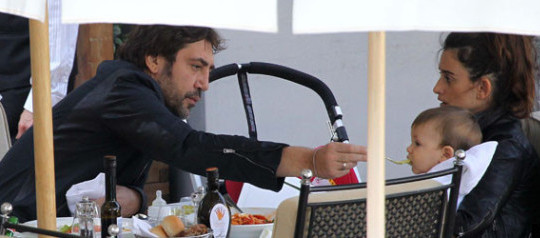 The hot Spanish power couple Javier Bardem and Penelope Cruz were spotted having a lazy spaghetti lunch in Italy on Saturday with their 10-month-old baby boy Leo. The adorable little baby Leo looked happy and was full of giggles as his parents took turns to keep him entertained.
Bardem and Cruz had ordered what appeared to spaghetti tossed in some tomato based sauce along with some bread to go with it. But they fed Leo with only baby food.
Penelope Cruz is filming her new movie 'Venuto al Mondo' in Italy, alongside Emile Hirsh. Javier Bardem who has just been confirmed as the next 'Bond' villain has taken a brief break and is just being the supporting husband and father by traveling with the family. Penelope Cruz, despite her present busy schedule, is also taking time off to spend time with her family.
Images Copyright: socialitelife.com  
Disclaimer: The images' copyright belongs to the photographer/owner of these photographs.