Why Are Blueberries Good For You?
Why are blueberries good for you? Not for just one reason but many. The varied flavor – from mildly sweet to tart and tangy – and the huge nutritional values that blueberries offer make them one of the healthiest fruits. Some of the significant health benefits of blueberries are listed below: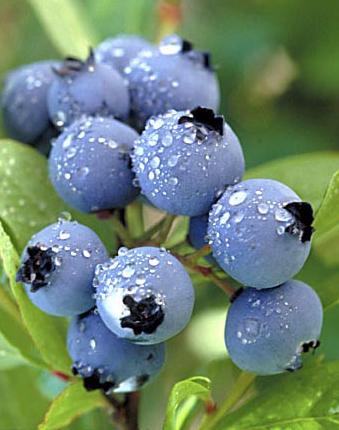 Antioxidant Properties:

Blueberries are packed with anthocyanidins - the antioxidant phytonutrient – that neutralize free radical damage to the collagen matrix of cells and tissues, thereby reducing the risks of cataracts, glaucoma, hemorrhoids, cancer and heart diseases. Anthocyanidins also integrate the support structure of veins and capillaries, thereby improving the blood flow in your body.
Protects Heart:

The huge number of free radicals present in blueberries also makes them a good cardio-protective fruit and reduces the risks of heart diseases. The pectin in blueberries also helps in lowering cholesterol and keeping your healthy.
Improves Visionary Skills:

It is believed that the extracts of bilberry (a variation of blueberry) improve night vision. It also helps you to quickly adjust to darkness or light.
Improves Gastrointestinal Health:

The fibers present in blueberries help you eliminate body waste better, thereby relieving you from diarrhea and constipation. Blueberries are also rich with tannins, which act as astringents for your digestive system and reduce digestive inflammation.
Reduces the risks of Cancer:

One of the most important benefits of blueberries is that it is quite effective in reducing the risks of cancer. Blueberries are rich in phenolic compounds. These compounds are quite effective in hampering the spread of colon cancer cells – cells which leads to apoptosis. It contains a flavonoid named kaempferol, which in turn, reduces the risks of ovarian cancer. Blueberries also contain ellagic acid, which blocks the chemical processes in your body that can lead to cancer. Blueberries also prevent bile acid from being transformed into cancer-causing agents.
Reduces the risks of Urinary Tract Infection:

Urinary Tract Infections (UTIs) are generally caused due to bacterial infection (E.coli being the most common type) – when bacteria starts adhering to the mucosal lining of the urethra and the bladder. The compounds present in blueberries prevent the bacteria from adhering to these body parts, thereby, reducing the risks of UTI and improving urinary tract health.
Improves Brain Power:

Studies have proved that the benefits of blueberries also extend in improving the brain capacity. It improves your learning and retaining capacity. At the same time, blueberries protect the brain from oxidative stress, thereby reducing the risks of diseases like the Alzheimer's disease or dementia.
Thus, the benefits of blueberries are numerous. It is one of the most versatile fruits that can be consumed in any way – have them simply as whole fruits or as juices or add them to your custards, pudding and other desserts. The wide range of taste that they offer, the rich storehouse of vitamins C and E and the high fiber that they contain in them, make them one of the favorite fruits of dieticians and doctors.
Photo Courtesy: stargazerperennials.com