Heidi Klum's Way Of Shedding The Baby Fat
Despite being a Supermodel, it seems Heidi Klum is quite cool about conceiving her babies, when a lot other celebrities of her age and profession give that a second thought fearing that one wrong step may have its affect on their career. Yes, the Supermodel Heidi Klum is pregnant again and I don't think this time, being one of her string fans, I myself is not at all startled, coz we all know that she has her own way of getting back into that Victoria's Secret Lingerie type shape over again!


Giving birth to her third child in about less than 3 years, Heidi Klum is still very much enjoying her supermodel status, leaving the spectators baffled with the question "when was she pregnant? She doesn't seem so!" Now, the celeb coupld is waiting for their baby No.4!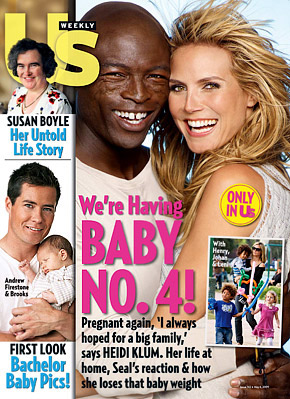 So for the fearsome moms-to-be, here is what Heidi Klum's post-pregnancy diet telling you the ways to shed that baby fat.


I agree that Heidi Klum is not hefty genetically, which comes as an advantage for most of us, but getting a trainer like David Kirsch is what luck and only money can buy! David Kirsch, a renowned New York City trainer never gave mummy Heidi any starvation diet, but hers was the diet which included a mix of de-tox and low-carb.


Heidi Klum's Post-Pregnancy Diet:


Heidi kick started her mornings with a protein shake followed by small meals at regular intervals, which included lots of veggies, omelets, salads, fatless chicken etc.


Her diet literally had no place for high-carb entries like cob, pasta and the like.


Heidi Klums Post-Pregnancy Work Out Plan:


Also, Heidi Klum had her won dose of daily workouts, which included yoga, shadow boxing, strength exercises etc.


A lil' pain and commitment is all that is required to get back to that enviable shape!


Image Credits:
People.com