Do YOU want to eat like Oprah? (Personally, I do not. I'd rather eat like one of the slim, fit celebrities whose weight doesn't fluctuate every five minutes!)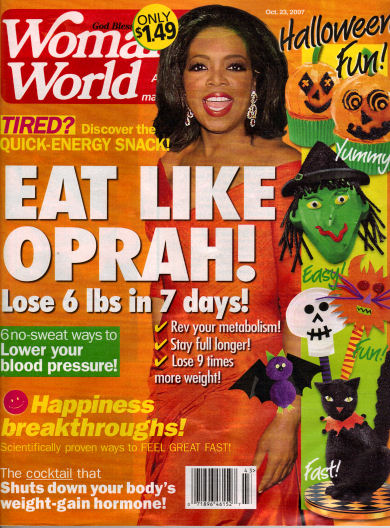 Anyway, in case anyone was wondering about Oprah's latest diet, I went ahead and scanned in her diet and meal plan from the latest Woman's World Magazine. The plan is based on the book entitled The Best Life Diet by Bob Greene.
I like the breakfast suggestions given in this article. They are unique, healthy and tasty-sounding, unlike the boring "whole wheat toast with peanut butter" ideas usually recommended. Key Lime flavored yogurt with chopped walnuts, blueberries and chopped mango? Sounds delicious!
Click here to read the article and diet plan.
The only thing confusing me here is that Oprah looks a LOT skinnier in the cover photo than she is currently rumored to be. Hasn't she recently gained a bunch of weight back?